Film Review: 'Black Panther'And Its All Afrocentric Cast
PRODUCTION: A Walt Disney Studios Motion Pictures release of a Marvel Studios presentation. Producer: Kevin Feige. Executive producers: Louis D'Esposito, Victoria Alonso, Nate Moore, Jeffrey Chernov, Stan Lee.
CREW: Director: Ryan Coogler. Screenplay: Ryan Coogler, Joe Robert Cole, based on the Marvel comics by Stan Lee, Jack Kirby. Camera (color, widescreen): Rachel Morrison. Editors: Debbie Berman, Michael P. Shawver. Music: Ludwig Göransson.
WITH: Chadwick Boseman, Michael B. Jordan, Lupita Nyong'o, Danai Gurira, Martin Freeman, Daniel Kaluuya, Letitia Wright, Winston Duke, with Angela Bassett, with Forest Whitaker, Andy Serkis. (English, Korean, Wakandan dialogue)
Now on its 18th film, Marvel Studios green lights a movie that feels quite unlike the other Avengers one-offs, featuring a superhero with purpose.
When Marvel first announced that they would make a stand-alone film for Black Panther, the first for a Black superhero in their MCU, some may have wondered whether they could pull off the same success that the studio has had with their other stand-alone films (Iron Man, Captain America, Thor, and Ant-Man). While we have seen War Machine and the Falcon in other Marvel films, Black Panther is the one character, other than Luke Cage (whose character is on the Netflix series), that most folks are familiar with.
After the jubilant fanfare the character and Chadwick Boseman received from his first appearance in "Captain America: Civil War," there was no question that the time was now for his film to come out. With director Ryan Coogler at the helm and this being his third film following Fruitvale Station and Creed, suffice to say, Black Panther is a hit! It's emotional, powerful and action packed to satisfy comic book fans as well as newcomers who probably haven't seen a Marvel film, but want to experience seeing Black excellence on the big screen.
With a star-studded cast that includes Chadwick Boseman, Michael B. Jordan, Lupita Nyong'o, Danai Gurira, Martin Freeman, Daniel Kaluuya, Letitia Wright, Winston Duke, Angela Bassett, Forest Whitaker, Andy Serkis, John Kani, Florence Kasumba, and Sterling K. Brown, Coogler has put together a Marvel film that has sense of realism that they haven't had with their other films. There a lot of political aspects that resonates with today's world in regards to the rich and the poor and whether or not resources should be shared.
Everything you wanted to see in this film, from the characters, the story, the action scenes, the costume designs, and the production values are firing on all cylinders. While Boseman is the lead, he is aided immensely by Jordan, Wright, Nyong'o, Gurira and Freeman. Each character is given ample time to establish their identity and along with co-writer Joe Robert Cole, the film is also filled with some humor that keeps kids entertained without losing them to a language they are too young to understand
Taking place after "Captain America: Civil War," when his father King T'Chaka (John Kani) was killed, T'Challa (Boseman) returns home to the undiscovered, isolated home of Wakanda where he has to prepare to be named the new King and continue the legacy of the Black Panther. With his younger sister and tech wizard Shuri (Letitia Wright), stepmother Ramonda (Angela Bassett) and his all-female band of soldiers aka the Dora Milaje at his side, T'Challa is in great hands. With many different tribes gathering for the ceremony, T'Challa's rise to the throne is initially challenged but he prevails.
Meanwhile, outside of Wakanda, a man by name of Erik Kilmonger (Jordan) is seen in London robbing a Vibranium item and gives it to Ulysses Klaue (Andy Serkis), the man responsible for T'Chaka's death. Vibranium is the heart and soul to Wakanda and its technical advantage over the world is mostly desired by others. When word gets to the folks in Wakanda that Klaue has been located in South Korea, it's agreed by T'Challa, mentor Zuri (Whitaker) and his chief counsel W'Kabi (Kaluuya) that Klaus must be apprehended and brought back to Wakanda to face justice. Setting out on this mission are T'Challa, Okoye (Gurira), his most trusted ally and head of the Dora Milaje and his former lover Nakia (Nyong'o), a war dog and undercover spy for Wakanda.
Based on the various trailers and clips shown, and without revealing any spoilers, we know that CIA agent Everrett K. Ross (Freeman) is also on the hunt for Klaue and while it seems (from the trailer) that both T'Challa and Ross managed to capture him, there's a larger threat to both of them that neither saw coming and the world of Wakanda may never be the same.
The moment the trailer was released, the thing that stood out was how amazing each setting looked. From start to finish, costume designer Ruth Carter's vibrant colors for the characters and Hannah Beachler's dazzling production values makes this a beautiful film.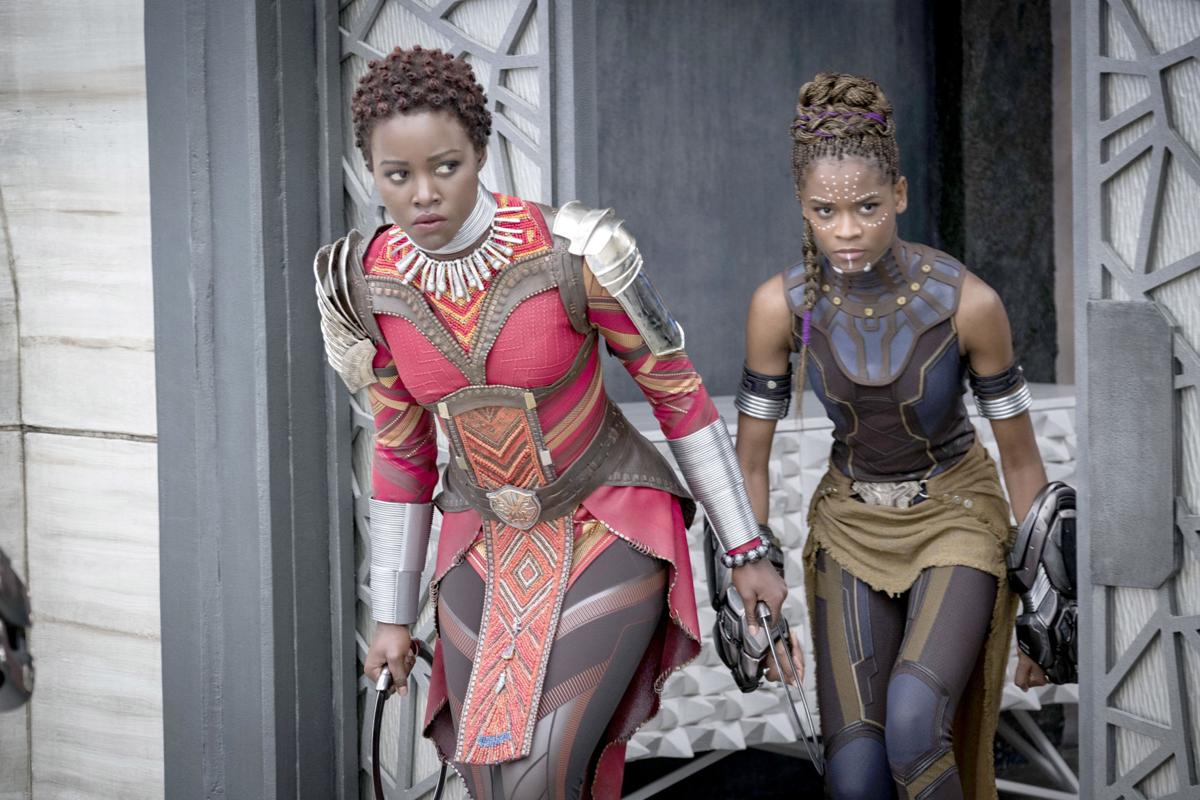 Opening in the mythical kingdom of Wakanda, "Black Panther" effectively anticipates President Trump's alleged comments about "shithole countries" whose refugees prefer the American way of life "to their huts." Without disparaging the rest of Africa, Coogler and his crew suggest what the continent might have become had it never been stripped of its resources — and had those resources included highly advanced alien technology and ultra-efficient energy sources. Hidden from the world, Wakanda is home to the world's most technologically advanced city, protected by a ruler with special powers (never fully defined, all-too-easily revoked) and a fearsome black panther costume.
Of course, Wakanda doesn't really exist, but then, Europeans so exploited the continent that we'll never truly know the full extent of what Africa could have taught the world. (No wonder Wakandans pejoratively refer to white people as "colonizers," a not-unreasonable epithet that's virtually certain to enter the national vocabulary from here.) As Prince T'Challa, Boseman plays the latest Wakandan leader to don the catsuit, a matte-black onesie that receives a nice upgrade courtesy of his tech-savvy sister, Shuri (scene-stealer Letitia Wright, whose irreverent delivery makes a welcome counterbalance to Boseman's dead-serious attitude).
Wakanda owes its utopian status to a precious extraterrestrial resource called Vibranium that the rest of the world covets (it presumably sits somewhere between Kryptonite and Unobtanium on the periodic table of elements, and far out-values the diamonds and uranium for which Africa has been plundered over the past century). Halfway around the world, an MIT-educated former black-ops soldier named Erik Killmonger (Jordan, sporting a modified Basquiat haircut) waltzes into a museum and steals a misidentified Wakandan relic. (When a curator objects to the theft, he quips, "How do you think your ancestors got these?")
"Black Panther" may not have the most impressive action sequences or visual effects of any Marvel movie, but it boasts the best villains. As an arms dealer whose arm doubles as a Vibranium super-cannon, Klaue makes for a nasty henchman, while Killmonger keeps his cards up his sleeve until relatively late in the film but emerges as the most satisfying comic-book adversary since Heath Ledger's Joker. Both characters have a ruthless anarchic streak, although Killmonger has more than just wreaking chaos in mind. He's motivated by a feeling of deep political injustice, plus a "This time it's personal" sense of vengeance, and he's convinced that raiding the Wakanda's stockpile of Vibranium could put genuine firepower in a worldwide black uprising.
It's a compelling idea (enough to sway a key ally played by Daniel Kaluuya), and a reminder that throughout the African diaspora, the black-white power balance remains as it is courtesy of Jim Crow practices designed to keep minorities in check: persistent segregation, broken drug laws, racially targeted policing, disproportionately high incarceration rates — all of which are identified and indicted by Coogler's truth-to-power script. Arm the oppressed, Killmonger passionately argues, and it won't take a century for the system that produced "The Birth of a Nation" to grant a black artist the right to tell this kind of story — not that Coogler endorses the character's lunatic ideas.
But he's not about to waste the opportunity either. Rather than simply concocting another generic plan to save the world from annihilation, Coogler revives the age-old debate between Martin Luther King Jr. and Malcolm X — between passive resistance and the call for militant black activism. Think of it as "Black Panther vs. the Black Panthers," except you can't have a nonviolent action hero, which puts T'Challa in a strange position. It's not quite clear what he stands for, whereas his independent-minded ex-girlfriend Nakia (Nyong'o's character) has ambitious ideas about how Wakanda could help the world — which means it's up to her to spark his engagement with the outside world.
In their print form, comic books have led the way in terms of representation and inclusivity, long empowering non-white, non-male characters in their pages. Although previous big-screen examples certainly exist — among them Wesley Snipes' "Blade" and Will Smith's "Hancock" — "Black Panther" celebrates its hero's heritage while delivering one of Marvel's most all-around appealing standalone installments to date. Going forward, Black Panther will join the ranks of the Avengers, further diversifying their ranks. In the meantime, it's awesome to see Black Power celebrated in such a mainstream fashion.
Another scene-stealer is Wright, who as younger Shuri, is basically the female version of Q from the James Bond franchise. She's smart, savvy and just as strong as her brother. Not only that, but ALL of the women are fierce. From Okoye, the Dora Milaje and Nakia, there is no damsel in distress here and to see the women fight as a unit and without fear is a triumph. Wonder Woman and the Amazons paved the way and Black Panther continues to empower women as equals.At a running time of over two hours, some may have quibbles on the pacing of the film, but each scene is either filled with a landscape that's too gorgeous to ignore or an action scene where you want more. Marvel has given Coogler the latitude and tools to have Black Panther readers and fans be proud and where people can feel connected and entertained.